Check out our youth and adult classes, workshops, events, hackathons, Dev jams, and week-long institutes to learn skills for the creative economy and emerging media.
August 2019
August 22nd, 2019 9:30am-4:30pm VR Storytelling Workshop: How to Implement 360, VR, & AR projects at your school, library or community media center at Brookline Interactive in the greater Boston area. [Register here.]
Apply for our internships & fall Community Media & XR fellowships here:
Basic Editing in Premiere
Join BIG for this two-session workshop where you will edit and create your own brief video. Adobe Premiere is a high-quality editing software used throughout the film industry that enables one to edit footage and craft a video or film. This workshop will introduce you to the basic functions and concepts of editing, including cutting video footage, adding and manipulating audio, and creating an opening and ending slides.
Next session: TBD
Tuition: $100
Advanced Editing
Join our resident Adobe Premiere expert as they delve into more advanced functions, tools, and concepts of editing with this high-quality software. This two-session intermediate editing course will build on the basics and cover importing, master effects and color correction, syncing multi-cam angles, recording multi-camera edits, color matching angles, and more! Utilize advanced editing techniques to take your editing to the next level and make your own professional quality films.
Next session: TBD
Tuition: $100
360 Camera and Editing
Instead of only capturing what's in front of you, in just one frame, new cameras allow for a full 360 degree view of the world you are documenting. In this two-session class, you will gain a basic understanding of using a 360 camera, stitching content with software, uploading to YouTube, and editing footage in Premiere. BIG members can check out the Ricoh Theta after the class which uses two 180 degree cameras front and back to capture two videos simultaneously, which are then stitched together to create one 360 degree video.
Next session: TBD
Tuition: $100
Register here
Production Basics for Field, Studio, and 360 Shoots
This one-session class will give you all the tools you need to get your media project started. We'll help you learn the key elements that go into planning your studio show or field production, including scheduling, equipment needs, crew, organizing your footage, and storytelling.
Next sessions: TBD
Tuition: $100
Tuition: $50
Mindfulness, Movement & Creativity: Unlock your Inner Artist
BIG is partnering with Women in Film & Video New England to offer a 2.5-hour workshop to help you learn how to use mindfulness and movement to activate your creative process. This class will include meditation and yoga and is open to all.
Next session: TBD
Tuition is $35, $25 for BIG/Public VR Lab members
Register here
Introduction to Unity
Unity is a powerful and widely-used game engine for developing VR experiences, as well as video games for consoles, mobile devices, and websites.
This 2-session workshop will introduce you to the basic functions and concepts of Unity and will provide you with the opportunity to do 3D modeling and coding through its systems.
Next session: TBD
Tuition: $100
Augmented Reality: The Right Place at the Right Time
Augmented Reality (AR) is an exciting form of emerging media that has great potential that spans far beyond the Pokemon Go! game that launched this medium into millions of households (and cell phones!). In this one-session workshop, you will learn more about AR, how it works, ways in which it is being used, and how YOU can make a powerful impact on your local community.
By utilizing the Hoverlay app, you can start creating your own AR content on day one. Please be sure to bring your iPhone or tablet, as you will be downloading this app during the class.
Next session: TBD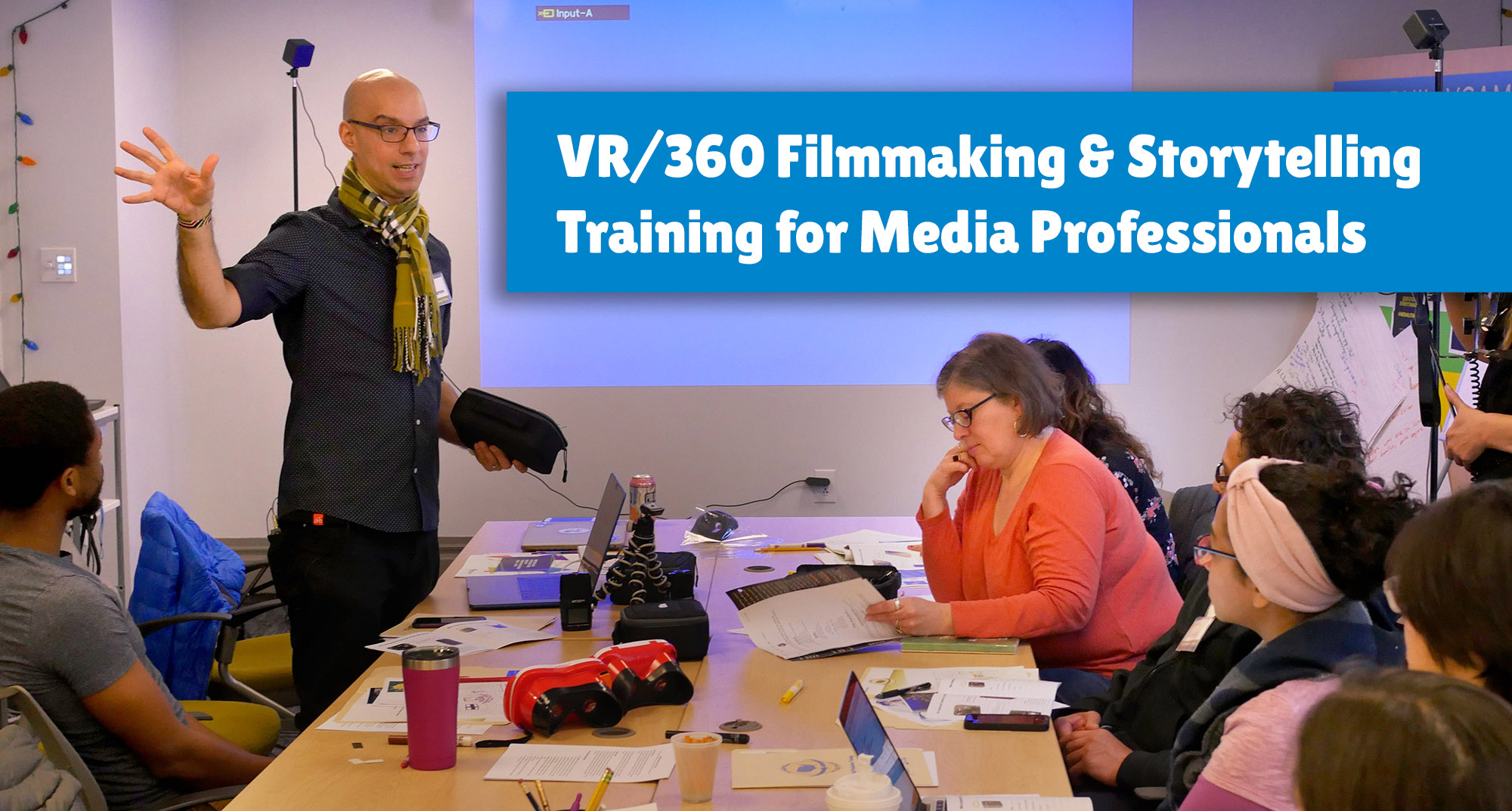 Join us on Thursday, August 22nd, 2019 from 9:30-4:30pm in the greater Boston metro area to learn the basics of VR storytelling, understand how emerging media is different than traditional storytelling, journalism, and learn filmmaking tips, trick, equipment and editing with our supportive and expert trainers! This session is focused on supporting educators, media makers and creators.
Tuition: $200; partial scholarships are available. Discount for ACM members.
Register here