The Public VR Lab is growing a networked field for Community XR that promotes accessibility, digital inclusion, and diversity. The Lab is disrupting traditional media communications in community-based civic media, journalism, and arts, cultural and educational organizations by providing access to low-cost XR Toolkits, equipment checkouts, extensive training for adults and youth, cohort filmmaking/production grants, artists' residencies, fellowships, and creating XR content in the public interest. Join the Community XR movement here.
The Lab is a project of Brookline Interactive Group, a next-generation public access community media arts center, and has collaborated with many partners since its inception in 2015 to create Civic XR experiences and XR education programs with the United Nation Environmental Programme, the Boston Globe, Education First, Boston Jewish Film Festival, the Town of Brookline, Emerson College, Massachusetts Institute of Art, HTC VIVE, Hubweek, Lead Boston, the Alliance for Community Media, NATOA, the MIT Open Doc Lab, the Northampton Film Festival Immersive, and many others.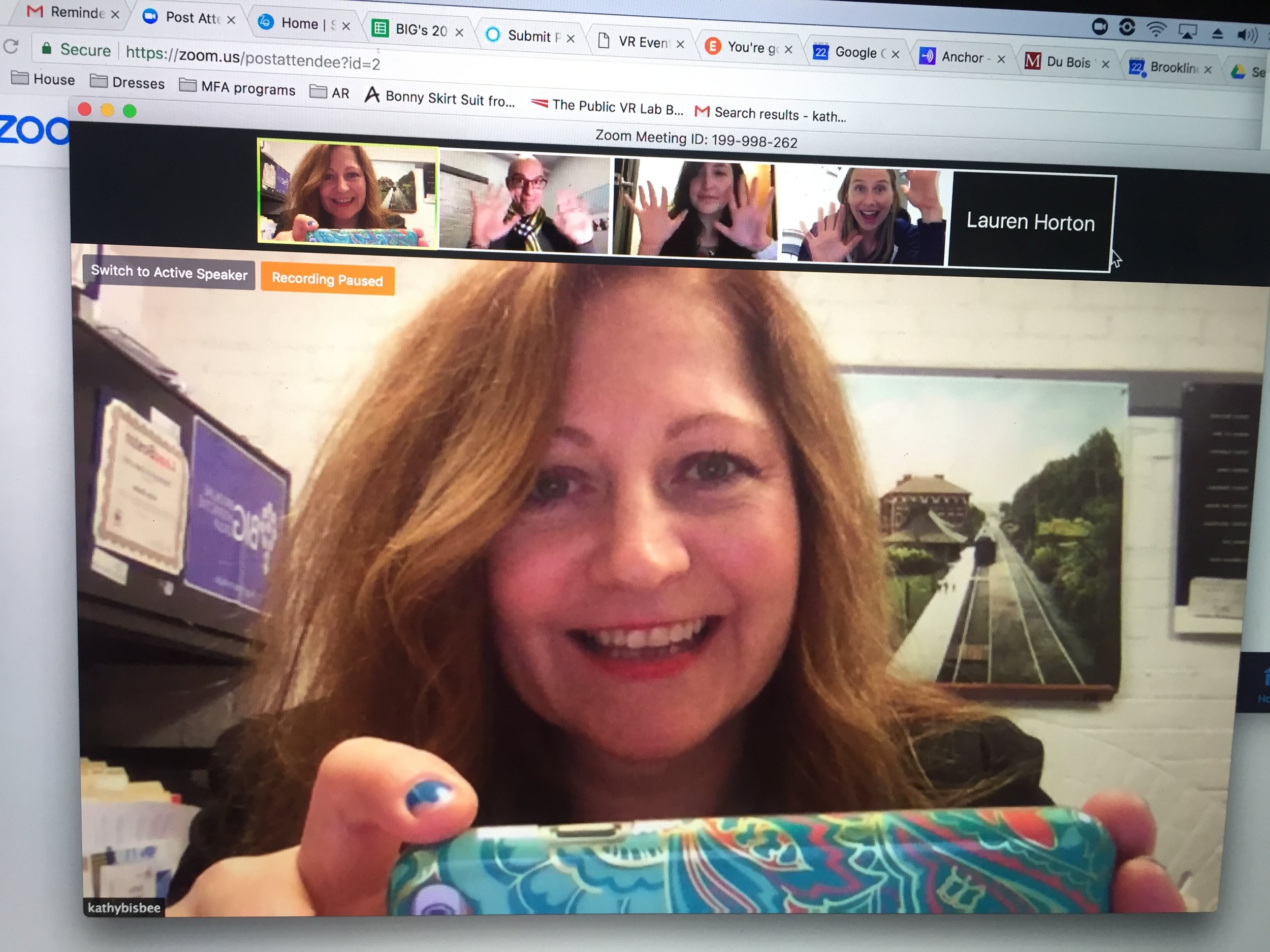 Our Team: The Arrival VR organizing team
Our Arrival VR team jumps on a monthly Zoom call with our nationwide partners to discuss their progress, challenges and successes with VR storytelling and filmmaking. [Kathy Bisbee, front. l to r: Nir Darom, Shannen Ortale, and Erin Kinney.]
Arrival VR, a co-created immersive storytelling project, is the first national virtual reality (VR) filmmaking collaborative project curating migration and immigration stories of Americans from pre-1620 through 2018 and incorporating them into a visual XR/VR timeline. We welcome all migration, immigration, and all origin stories about how your family arrived in the U.S., and/or became American.
Team members prep for Africa
IT producer, Andrew Doig and Lead Creative Designer, Nir Darom, prep our VR Toolkits for travel to Nairobi, Kenya for demos to world leaders at the United Nations
It all started when…
BIG's executive director, Kathy Bisbee, and her partner, Al Williams, executive director at Northampton Community Television and the Northampton Film Festival, collaborated to start a movement to offer VR and AR at their next-generation community media organizations in 2015. Their goal was to bring the same kind of accessibility, community-building, and media-in-the-public interest focus that their public access organizations had offered for decades. The Lab, and affiliates elsewhere, would build upon their missions of public access to media, technology and creative communications tools such as low-cost training, equipment, expertise, and community-building in the VR/AR space. Kathy's official bio can be found here.
Check out the lab's first ever Meetup in the summer of 2016 with Kathy & Al introducing our first iteration of the Lab's vision. Four years later, ten community media centers have invested in Labs at their locations, and the Public VR Lab, housed by Brookline Interactive Group, has been a global advocate for a new field of community-based XR, expanded to provide many VR, AR, MR, 360 offerings and accessibility initiatives and training programs for arts, cultural, journalism, and media organizations.
Al Williams & Kathy Bisbee, co-creators of the Public VR Lab
While Al has kindly deferred to Kathy's initiative since the inception of the Lab, he is to be credited with coming up with the original idea to provide public access to VR tools, equipment and training in partnership with Kathy in 2015 and providing inspiration and help in guiding its growth throughout the past four years.